Polka Dot Babe
By Fantasy Lingerie




I order this set in hoping that it would fit me, but with one look I knew the boyshorts wasn't going to work and I have a sister who simply loves polka dot lingerie, so I decided to give this sexy 2 piece set to her. Her husband is in the army and has been away for a while. So, I decided to surprise her by giving this set to her and taking her kids for a night when he came home on leave. She absolutely adores this set. She wore it under her cloths when she went to pick him up, so he could find a nice little surprise when they got home. By how happy she was the next day I would say it did the trick.
Material/ Texture – The black and white Polka dot babe is made up of 90% polyester and 10% spandex. It does have some stretch to it. It has a very silky smooth feel to it. There is some padding in the cups, but not as much as a push up bra. This set is very well made and I did not find any loose strings or any seams coming undone. There is underwire and the bra supports really well.
Design/ shape/ size- This cute set is all black with white polka dots all over. The back of the bra is lined with some white lace and there are three bows on it. There is one big bow in the middle of the breast cups and two smaller bows on the straps. The straps do adjust like any other bra. The boyshorts also adjust on each garter strap and have a bow on each one. I ordered the M/L size. My sister wears a 36 C almost D in bras and she wears a size 6 in panties. The bra fits her, but gives her a ton of cleavage. The boyshorts do fit a little small, but she was ok with that. The garter straps were very easy hook into thigh highs. They do adjust to your liking. The clasp on the garters is made out metal covered with shiny black paint, with the other piece being rubber.
This was the first piece of lingerie that I have ordered, that Fantasy Lingerie has made, so when it came to the sizing for this set I wasn't sure if it meant both the medium and large size on the chart or not. Here is the chart for medium and large:
Bust (in) Waist (in) Hips (in)
Medium 10 - 12 37 - 39 28½ - 30½ 39½ - 42½
Large 14 - 16 39 - 41 30½ - 32½ 42½ - 44½
How to measure your bust size:
Measure just under your bust and you want to add 5 to get your bra band size
Then, measure the biggest part of your bust.
To get your cup size you want to take your band size and with each additional inch that it takes you to get to your bust size is what cup size you are.
So, if your band size it 32 and your bust size is 34 then you would wear a 32 B, because you went up by 2 in size. 1 would be A, 2 would be B, 3 would be C and so on.
Bra
If this set is supposed to fit both of those sizes then Fantasy Lingerie failed big time when making this bra. There is no way the bra will fit any one with a bust size 37- 41. When laid flat the bottom of the bra measures 27" and can be stretched to about 36" and that's pushing it. I would say the bra would fit best on 32 to 36 B or C cup. If you are on the smaller side of a D this will give you tons of cleavage, but will still fit. Your breast will feel almost as if they are going to pop out, but unless you do a lot of bending it should be ok. The back of the bra does have three double hook and eye closures.
Panties
The panties, when laid flat, they measure about 13.5" and being stretched their 16" across the top part. Around the hip line of the panties it measures about 15" flat and when stretched about 18". The crotch area is 2" without being stretched and there is no lining on the inside. There is however, a thick seam that runs right through the middle of the crotch area going both ways. The garter straps, at their shortest length, measure 7" and go to 10.5" at the longest length. I think the panties would best fit if you normally wear a 4 to 5.
Cleaning/ care-
One of the good things about this set is you do not have to hand wash it. Yey! I hate hand washing things. This set can be put in the washer with warm water on a gentle cycle and tumble dry on low. It does say to not twist or wring it. I am not sure why you would do that after you dry it, but you have been warned.
J
After washing this set, it held up well and still looked new.
Thoughts- This set is perfect to wear under you cloths to make you feel sexy and to give significant other a nice surprise. It's just as comfortable as wearing your normal everyday bra and panties. The one downside to this set is you can't exactly wear this during sex. You can try to pull it to the side, but otherwise you have to remove them.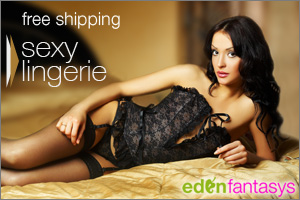 To find this set and more lingerie click on the edenfantays picture above or just click on the shop tab. They just added
a ton of new lingerie to their site, so weather your a size x-small to 3x, they have something for you.
*This product was provided at a discounted price in exchange for an unbiased review.